ARCHIVE 11
13-03-Here some info on Buffalo Soldiers, it does says though Spring 2003, I hope they are wrong with the year. Also that photo of Joaquin standing by the car on it.
AJoaquin on the SAG Awards, Great child actors from the past and present. They showed the clip of him in Parenthood when he is on the phone with his dad.
And some old thing from 1998 from HERE
I recently had lunch with Joaquin Phoenix in New York. When he walked into the quasi-modest vegetarian restaurant on 13th Street and every granola-head in the joint turned, it was really glamorous. I hadn't seen him in three or four years, during which time he has transformed from scruffy kid to glamorous leading man. The fact that he has a prominent scar on his face is glamorous: perfection is never glamorous. The fact that he didn't want to meet at a trendy restaurant is glamorous. The fact that he is a vegetarian but chain smokes is glamorous. The fact that he still has the same charming way of getting flustered, or trying to explain something inexplicable to a waitress or passing stranger, is glamorous. The fact that he hates giving interviews or talking about himself is glamorous. The fact that he was having lunch with the likes of me is glamorous. I'm afraid he's just about the most glamorous person in the world..
11-03-I'm just back from a long weekend England. That is why that there wasn't an updating sooner. Not that much news to post though
ANew It's All About Love picture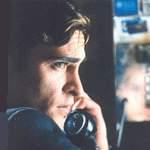 06-03-You can vote again for The Sexiest Vegetarian alive at PETA
This time he must win :lol, so start voting for him at PETA Results will be posted on May 1, 2002. You also can vote for Summer Phoenix
Besides making movies, what do Alec Baldwin and Joaquin Phoenix have in common? What links Chelsea Clinton and Lauren Bush way beyond the White House? Besides turning heads wherever they go, what else are supermodel Christy Turlington and V.I.P.'s Pamela Anderson known for?
APAUL McCARTNEY, SARAH McLACHLAN, THE B-52'S, AND CHRISSIE HYNDE ROCK PETA DVD (Here More)
Special features on the DVD include a retrospective reel of PETA PSA's, including the Golden Girls cast members targeting fur, k.d. lang's infamous "Meat Stinks" spot, River Phoenix urging kids to speak up for animals, and, produced years later, his younger brother Joaquin's ad promoting turkey-free holiday meals. Another menu option—which contains a parental advisory—allows viewers to see PETA's graphic, celebrity-hosted undercover animal cruelty cases, such as Charlize Theron's exposé of puppy mills, Babe star James Cromwell's take on the pork trade, Stella McCartney's tour of a fur farm, Pamela Anderson's true skin flick—a look at how leather is produced—and many more shorts as unsettling as any slasher movie.
AJoaquin on, the PETA pages, not news just his name
ABaton Rouge, La. — Whose skin are you in? Bossie's? Babe's? Or—gulp—Fido's? By correctly answering this and other questions about what (and who) goes into shoe leather, 59-year-old Robert Simmons beat out more than 2,000 other entries in PETA's CowsAreCool.com quiz. He'll soon be seen strutting around Baton Rouge in the latest vegan cross-trainers from design-it-yourself trendsetters, worn by the likes of Joaquin Phoenix, Alicia Silverstone, Moby, Todd Oldham, and designer Stella McCartney, courtesy of Customatix.com.
AEvery animal rights activist gets asked eventually: "Are your shoes made of leather?" If they are, it's time to go with the faux! Skin-free shopping is a cinch these days—dozens of mainstream designers and brands, including Sam & Libby, Unlisted, Skechers and Birkenstock, offer fashionable alternatives to the "skin thing"—and it's also the number one trend! According to a recent article in the L.A. Times magazine, today's vegans—think Fiona Apple, Alicia Silverstone, Joaquin Phoenix and Moby—are "hip, young and stylish." Best of all, you don't have to earn a Hollywood salary to look like a million bucks—pleather saves money and animals' lives.
Here you can find animal friendly shoes
AHere are 10 totally selfish reasons to get active for animals: (and what is at number eight)
8 Go veg and count yourself among today's "hip, young, and stylish" vegans (that's what the L.A. Times magazine calls 'em) like Alicia Silverstone, Joaquin Phoenix, and Fiona Apple.
KIDS BITE BACK WITH GRRR! MAGAZINE Tween 'Zine a Treasure Trove of Animal-friendly Facts & Features for Kind Kids
AIn the latest Fall/Winter issue, readers learn what everyone from the hottest film stars, athletes, and other kids has to say about animal rights:
Gladiator star Joaquin Phoenix reveals his soft spot for sea creatures
AShare PETA awareness with the world powered by MECA. Download new skin HERE also Joaquin his campaign against fur, animal friendly skins that share via the next generation Instant messenger
AOne thousand of PETA's friends gathered in New York's glittering Waldorf-Astoria Hotel to help PETA blow out 21 candles on our vegan birthday cake and recognize some of the wonderful people who have accomplished miracles for animals.

Guests sipped green apple martinis and dined on Eggplant and Fire-Roasted Pepper Roulade, Peruvian Smoked Seitan, vegan Crispy Soul "Chicken," dairy-free "Vice Cream," and other delicacies from a dozen restaurants. Among celebrity guests like Steve Buscemi and The Sopranos' Aida Turturro, they browsed among one-of-a-kind silent auction items, including the tuxedo shirt worn to the Oscars by Joaquin Phoenix (whose lovely mother, Heart, attended) and a portrait of Linda McCartney by Peter Max.
04-02-News from Steve his site Joaquisfan
[02/03/02] JP spotted@J&R
Article courtesy of Barb: She came across a teensy snippet about JP in US dated 2/25 in a column entitled 'The Scene' (a bunch of celeb sightings). It said: "Joaquin Phoenix paying $700 for a Hewlett-Packard laser printer at J&R Computer World in New York." - who knew JP was a techie!
HAHA I have the same printer as Joaquin :lol if it was for himself that printer